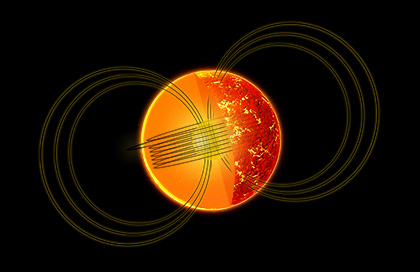 Invisible Forces and Their Impact on Timepieces
Image by aaade aaade October 6, 2022 Approximate Reading Time: 5 minutes
Magnetic Fields: An Intangible Quandary
The influence of magnetic fields, even when potent, remains intangible to human senses. These forces cannot be felt, seen, or heard. However, their impact on mechanical watches can be significant. When a magnetic field surpasses a certain threshold known as the "critical value," some watches begin to exhibit inaccuracies or even cease functioning. The horological battle against magnetism dates back to the 19th century and persists to this day. Rolex stands among the pioneers in this struggle. Here is a concise chronicle of the amagnetic Milgauss.
The Nexus with CERN: A Scientific Epicenter
Nestled on the fringes of Geneva, CERN (the European Organization for Nuclear Research) was founded in 1954 and currently stands as the world's largest particle physics laboratory. The Milgauss watch's journey intertwines with this institution, which now hosts thousands of scientists. Researchers at CERN, much like individuals in airplane crews and power plants, spend substantial durations within magnetic fields.
The operation of mechanical watches (quartz watches were not prevalent in the 1950s) worn by CERN personnel frequently encountered disruptions due to these magnetic fields. This conundrum was not lost on figures like Hans Wilsdorf, the founder of Rolex. Interestingly, IWC (International Watch Company) had already introduced specialized anti-magnetic protection in their Mark 11 watches, commissioned for the British Royal Air Force as early as 1948.
Mitigating Interference
The 1950s marked a zenith for Rolex, characterized by the introduction of iconic models such as the Turn-O-Graph, Submariner, Day-Date, and GMT-Master. These innovations underscored the brand's technological and aesthetic prowess, setting it apart from competitors. Driven by the tenet that precision, reliability, and longevity constitute paramount attributes, Rolex consistently enhanced its mechanisms, particularly its self-winding system.
Simultaneously, Rolex crafted an exceptional case design during the 1950s—an elongated classic barrel shape, combining resilience with sporty aesthetics. This strategic maneuver allowed Rolex to cater to diverse clienteles—those seeking elegant adornments and individuals in pursuit of robust sports watches with masculine aesthetics.
Enter Milgauss: A Pioneering Endeavor
Where does Milgauss fit into this narrative? It materialized at an opportune juncture as a harbinger of change, heralding the dawn of an era of cosmic exploration. Following the Submariner's success, Milgauss emerged as another offering targeting professionals—specifically scientists at CERN and those exposed to electromagnetic fields in their daily routines, as advertisements suggested.
Its nomenclature (the sole Rolex model sans an English name) alludes to its attributes. Rooted in the French words "mille" (meaning 1000) and "gauss" (denoting the unit of magnetic induction), the name signifies the watch's resistance to interference from magnetic fields up to 1000 Gs (approximately 80,000 A/m).
For those not well-versed in physics, this figure may appear abstract. To grasp its essence, consider this analogy: A watch devoid of protective measures begins to display inaccuracies when subjected to 50 Gs (roughly 4800 A/m) and halts beyond 100 Gs (approximately 8000 A/m). Hence, the prevailing international standard ISO 764, tailored for non-magnetic watches, stipulates protection against fields of at least 60 Gs.
The Inception Controversy
Many sources, including Rolex itself, designate 1956 as the birth year of the Milgauss. Nonetheless, some texts cite an earlier origin: 1954, when Rolex purportedly produced the Milgauss model no. ref. 6543. Why doesn't the company acknowledge this version as the original? The reasons remain elusive. It could stem from the limited production (estimates vary from 88 to 200 units) and the short two-year duration of its existence, casting it potentially as a prototype. The mysteries surrounding Rolex are boundless, and these inquiries might remain unanswered.
The ref. 6543 variant closely resembled the Submariner with its black rotating bezel marked from 1 to 5 or 10 to 50, a black dial featuring a distinct red Milgauss emblem, and triangular, tapering hour and minute hands complemented by a simple seconds hand. Its steel Oyster case, sized at around 38 mm, was encased within an unusual 19 mm lug spacing. The automatic caliber 1080 powered this inaugural Milgauss iteration.
The subsequent model, the ref. 6541, marked its official entry into the market in 1956, albeit slight modifications. Notably, it introduced the iconic lightning-shaped seconds hand—a symbol synonymous with Milgauss. The case maintained the same diameter but expanded the lug spacing to 20 mm, adhering to industry standards for sports watches. Beyond these changes, the mechanism remained unchanged (although some sources indicate the utilization of calibers 1065 M and 1066 M alongside caliber 1080).
The Shield of CERN
As the 1960s unfolded, Rolex released the ref. 1019, a model that deviated from its predecessors. Its smooth and matte dial, available in silver or black, eschewed the honeycomb pattern. Rectangular indices harmonized with the slightly thicker, almost rectangular hands. The iconic lightning seconds hand and black ring were replaced by a simpler red-arrow-tipped hand and a narrow polished ring. Notably, the ref. 1019 CERN version, characterized by a silver dial, omitted the use of radioactive tritium on indices or indications—essential to prevent interference with radioactivity experiments.
In sum, the legacy of Milgauss remains intertwined with the struggle against magnetism. Rolex's pursuit of horological resilience in the face of invisible forces not only yielded remarkable timepieces but also etched a narrative into the annals of watchmaking history.