Like most people with an Apple Watch, I rarely let it leave my wrist. I wear my Apple Watch Series 6 to work, to dance class, to the gym, and to bed. But, when I'm working out, I sometimes feel my wrist getting hot from wearing my tried-and-true Nike Sport Band. The Sport Band has holes to let some of my sweat evaporate, but sometimes I have to take the band off and wipe it on a towel after a workout.
Recently, tech accessory makers Twelve South offered me the opportunity to test out their pair of machine-washable terry cloth headbands called Actionband ($30). One headband bears the brand's logo while the other has a custom holder for an Apple Watch. The stand has cutouts for the Apple Watch Digital Crown and side button while covering the circumference of the watch. There is no display cover.
The gray colored bands are available in sizes 40mm, 41mm, 44mm and 45mm so they can fit an Apple Watch Series 4, 5, 6, SE and 7. Seeing that my Apple Watch was compatible with Actionband, I decided to give it a try during my weekly hour-long dance cardio workout.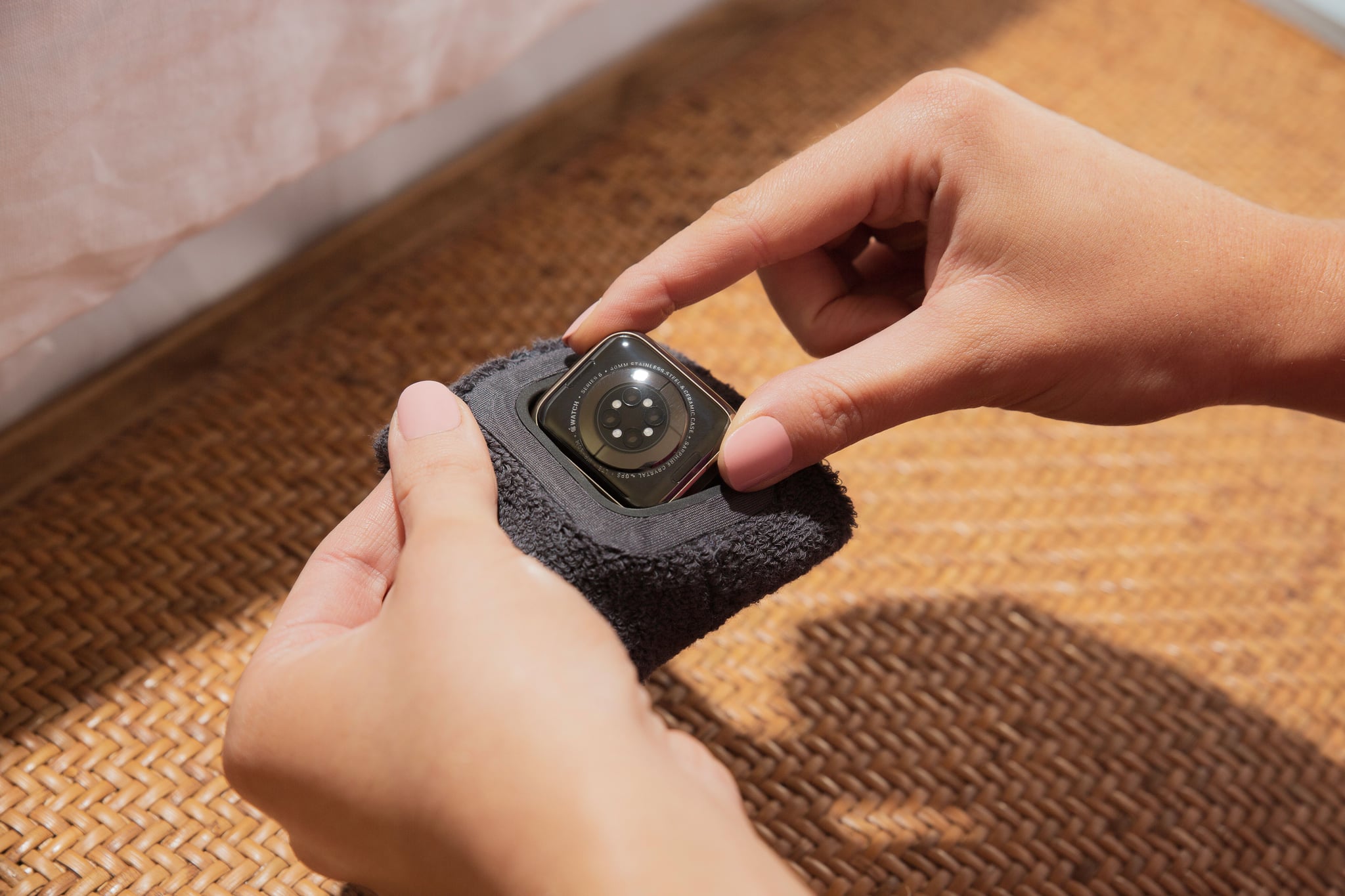 To put my Apple Watch in the band holder, I took the Nike Sport Band off my watch, flipped it over, slid my watch into the band, then flipped the sweatband over, so that my watch face is facing me. Once my watch was safely inside, I put the band on my 8 inch wrist and wiggled my arms around to make sure the band wouldn't immediately slip off. Actionband passed the flail test, so it was time to bring it to the dance floor.
At the start of the hour, I was able to set up my workout on my Apple Watch with no issues accessing the Digital Crown. Several times during the hour, I found myself glancing at the watch to make sure it wasn't moving. My Apple Watch never moved, and my wrist wasn't sweaty after class. Normally I put my Nike Sport Band on the fourth hole for a perfect fit, but Actionband held the watch in place on my wrist, the entire time, with a light grip.
After training, I put the sweatbands in a delicate laundry bag and threw it in the wash. After letting Actionband dry overnight, the bands were unstretched and ready for another workout.
Image source: Courtesy of Twelve South / Actionband