A company like Apple has no choice but to regularly renew its products, both for reasons of maintaining performance vis-à-vis competitors, to maintain its market share, but also to satisfy its investors. . When a new product arrives, Apple always experiences a difficult phase where sales are reduced considerably a few months before the announcement of the new model. This inevitable milestone happened during the second quarter of 2022, when consumers eagerly await the apple watch Series 8, many seem to have decided to postpone their purchase!
Since the launch of the first generation of Apple Watch, Apple dominated very largely the market of connected watches, all the analysis firms will confirm it to you: it is a international success. However, Apple also has its ups and downs, like its competitors. The company performed poorly in the second quarter of 2022.
As revealed by Counterpoint Research, Apple's market share has grown from 30.6% (as of Q2 2021) to 29.3% during the last trimester. Of course, it's far from catastrophic, but Apple is so accustomed to success in this sector that it has undoubtedly worried Apple Park!
The analyst firm reveals that sales of Apple Watch Series 7 have been disappointing, this can be linked to several reasons:
Lack of attractive promotions (Apple and resellers made almost no effort in Q2 2022).
Inflation which pushes consumers to reconsider their priorities and to cancel certain purchases that are not essential.
The arrival of the next generation. Everyone knows it, the Apple Watch Series 8 will be announced during the Apple Event on September 7 at 7 p.m. As a result, customers prefer to see first whether it is better to take the Series 8 or take advantage of a cheaper Series 7 thanks to the release of the Series 8.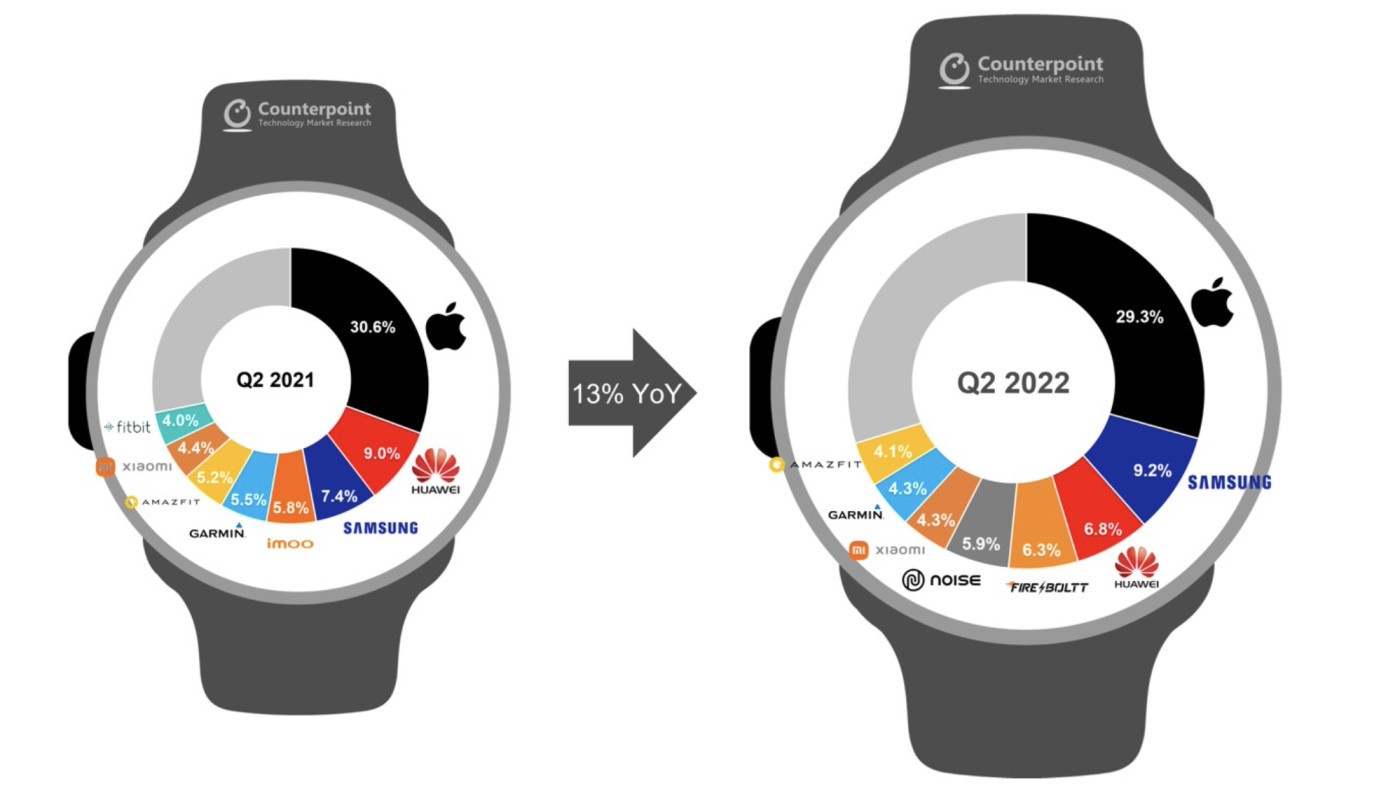 And in the competition, good or bad quarter?
A great performance for Samsung, this is how we could sum up the second quarter of 2022 for the South Korean giant. Samsung managed to ship more smartwatches globally, which boosted its market share from 7.4% to 9.2%. It's likely that Samsung picked up a few Apple customers who migrated from iOS to android lately.
For Huawei, it is a fall. The Chinese firm is losing in all sectors: smartphones, tablets, wireless headphones… It has been a disaster since the conflict with the Trump administration and which continues with the government of Joe Biden. The company sees its market share collapse from 9% to 6.8% in just 1 year!
Among the other brands, we find: the arrival of newcomers who were not present at the same time last year: Firebolt (6.3%) and Noise (5.9%).
Xiaomi is experiencing a small drop, but which should not even have been noticed internally as it is minimal, the market share goes from 4.4% to 4.3%.
On the side of Garmin which offers connected watches specially designed for extreme sports, it's a cold shower, the market share goes from 5.5% to 4.3%. The loss of speed should be accentuated in the months to come, since Apple plans to release an Apple Watch Series 8 Pro which will be… dedicated to extreme sports. This could hurt Garmin!
The last actor who (also) dropped out is Amazfit. The unrelated company Amazon (yes because it's confusing) recorded a fall of 5.2% to 4.1% of market share. This represents the loss of several tens of thousands of shipments!