An icon of wearable technology, the Apple Watch is an impressive fitness tracker that has created a lot of hype in the market. The popular Apple Watch is known for its advanced features in health monitoring and tracking technologies. However, it does not have a price accessible to all.
Another big downside (apart from its price) is that you need to have an iPhone to use it. If you own an Android device, you're out of luck. Buying an Apple Watch dupe can give you all the functions and features available at a much cheaper price.
That's where this Motast smartwatch comes in. With a similar interface and the same functionality as an Apple Watch, this smartwatch is the perfect tech if you're sticking to a sub-£30 budget.
Read more: The best smartwatches you can buy right now
Photo: Amazon
Motast activity wristband
You save
€7 (18.92%)
£29.99
£36.99
Advantages and disadvantages
Several smart features

Sleek and clean look

Fast-charging, long-lasting battery
Unable to make calls/send messages

Sleep data recorded only within set times

Unable to zoom
How did we choose the best Apple Watch alternative?
Smart Features
Design and look
Use
Budget
£29.99 on Amazon
What we love about the Motast smartwatch
What we like the most about this smartwatch is that it has several high-tech features such as activity tracking, sleep analysis, heart rate monitor, blood pressure monitor, spO2 measurement, step counting, calorie counting, etc. of an Apple Watch at just a fraction of the price!
This smartwatch uses an array of sensors to determine how hard your heart is working and also has a pedometer to track your steps. Made from lithium-ion batteries, it has a good battery life with a quick charge of only 2 hours maximum.
The design, look and overall feel is very similar to an Apple Watch. A great inexpensive Apple Watch dupe that's sleek, lightweight and comfortable to wear. It is available in two colors (black and pink) with soft silicone straps.
The Motast Smartwatch is perfect for daily sports activities. It has a wide variety of sports modes and also includes alarm clock, timer, stopwatch. Your fitness partner every step of the way! It comes with a two-year warranty from the company so you don't have to worry too much about damaging it while you're engrossed in your games.
We love this Motast model because it's a great all-around smartwatch that matches most of the features of the Apple Watch and does pretty much everything an Apple Watch can do.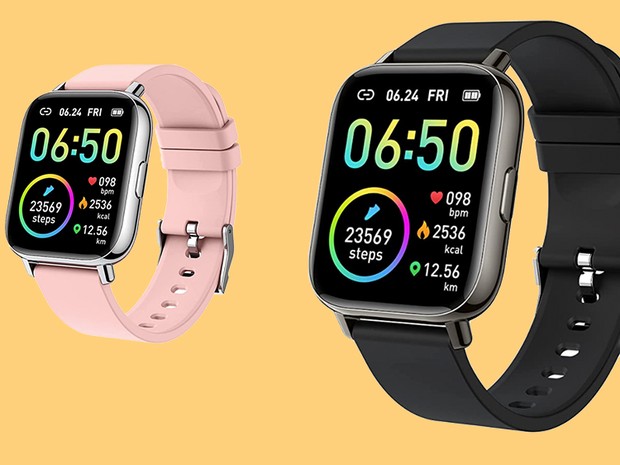 What we don't like about the Motast smartwatch
Although the Motast smartwatch seems like the ideal cheap Apple alternative smartwatch, it is still a dupe. As such, it has a few setbacks.
With this smartwatch, you can receive calls and messages, but you cannot send your messages or make calls through the watch. Additionally, sleep data is programmed to be recorded by the watch only between 8 p.m. and 10 a.m. If your sleep schedules don't match this cycle or if you tend to take naps often during the day, this will become a problem.
Although this smartwatch promises to resist sweat and rain, it is not fully waterproof. It cannot be used in water above 38°C such as in showers or saunas etc.
Many reviews also point to an inability to zoom in on messages to read them. The text is tiny, so it can be hard to read message notifications for many. Also, the screen displays only part of the message with no scrolling options to view the full text.
Key Features of Motast Smartwatch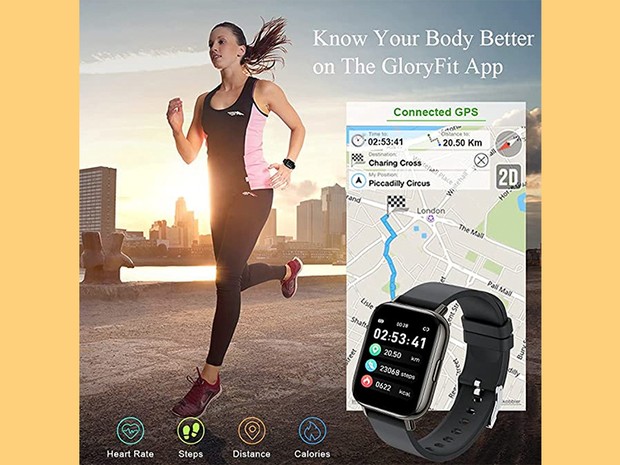 Bluetooth compatibility
The first feature we would like to highlight is the watch's compatibility with Bluetooth. You can easily sync it with your phone or tablet and it is compatible with iPhone and Android devices.
It has smart notifications through which the smartwatch shows calls, messages and other social notifications from Facebook, WhatsApp and Messenger etc. so that you don't have to check your phone screen every time you hear a buzzing sound.
All notifications are delivered to your smartphone, drawing your attention to any new notifications so you can now see everything right on your wrist.
Additionally, the smartwatch can also connect to your music and camera control. You can control your music with just a tap – you won't have to take your phone out of your pocket every time you want to skip a song. There is also a unique remote photography feature that you won't find in any other smartwatch. Simply shake your watch to snap a photo, freeing up your hands while recording memories.
The Motast smartwatch can additionally be synced with your Gmail, calendar and weather apps. The Bluetooth function also allows you to find your phone in case you lose it somewhere.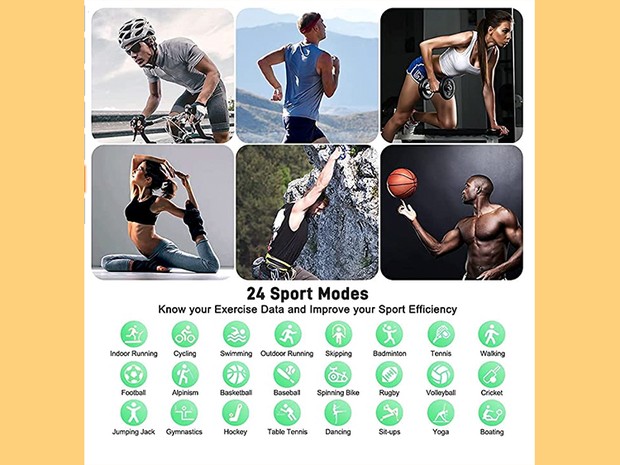 1.69 inch smart touch screen
Another feature we found striking was the Motast smartwatch's 1.69-inch rectangular Smart Touch LCD screen that resembles the Apple Watch.
The smooth, high-quality screen gives you all the information you need. It is simple to use and easy to navigate. The watch is also sensitive and adaptive to light touch. You can open it by simply lifting your wrist and it will light up. No need to constantly touch it to see the time or count your steps – with this amazing Apple Watch smartwatch, you can now free your hands while working out.
The smartwatch screen has a bright and clear dial which is also customizable. You can choose from several watch faces on the Glory Fit app or create your own according to your needs. In addition, the sensor of the watch has a protective film to prevent it from being damaged by sudden jolts when you are on the move.
24 sport modes
What we like the most about this Motast smartwatch is that it comes with 24 different sport modes that you can choose from. They include cycling, swimming, treadmill, skipping, tennis, running, hiking, cricket, aerobics, and golf, among others. Whether you are a professional athlete or a swimming beginner, this Motast smartwatch will be your companion in all sports.
This sports smartwatch is IP68 waterproof for swimming. It can be used for washing hands, taking a bath or even swimming in a pool. However, there is no guarantee of diving into the sea.
Moreover, this smartwatch also includes sedentary reminder, reminding you to take a walk once in a while for better physical functioning. With GPS connectivity and a user-friendly interface, this watch covers everything including the number of steps, the amount of calories burned and the distance traveled, thus improving the usability of the smartwatch.
Is it worth it?
Based on all of our research, this Motast smartwatch is an overall awesome watch that anyone can buy. With its extremely affordable price and maximum functionality, this product is a real bargain. It has great features, sleek quality, and good user experience for the value it offers.
It might not exactly be an Apple Watch, but for those just starting to explore the world of smartwatches, it's a great place to start – similar design, build quality and high-end features. technology at less than a quarter of the price!
In our humble opinion, this Motast smartwatch is worth every penny – give your health the priority it deserves without burning a hole in your pocket. If you want an Apple Watch on your wrist but don't want to spend money on another expensive tech accessory, this smartwatch is the ultimate budget option and a fantastic purchase that will give you the same Apple experience for just under £30.
Are there other cheaper alternatives on the market?
With so many other copycat Apple Watches available on the market, we've also taken the time to list some other cheap Apple alternative smartwatches to consider. Here are a few other inexpensive Apple Watch substitutes that we've tested and found useful:
IWO 13: This is a beautiful watch with a 44mm specification and a large 1.75 inch screen. Among other things, it measures heart rate, blood pressure and body temperature. In addition to a built-in GPS, this smartwatch also has a compatible Bluetooth connection and is strictly waterproof.
IWO 8: A previous version of the IWO series, this smartwatch is also a good option that passes for an Apple Watch dupe. It has multiple feature apps for fitness and health as well as calls and messages. It has a screen size of 1.54 inches, excellent ROM and is very durable.
Nennbo Smart Watch: This smartwatch is known for its fitness and sleep tracking. Apart from serving as a fashion statement, the smartwatch offers physical health tracking like blood pressure measurement and motion activity monitoring as its main feature.
I5 Smartwatch: Another great Apple watch replica, this I5 smartwatch has a beautiful sleek design. It has many fitness sensors and features, including distance traveled, heart rate monitoring, blood pressure, and more.
---
Rates updated on 02/02/2022. We are not responsible for price changes mentioned above.