A fitness tracker is a band with sensors that transmit data to your smartphone, while a smartwatch has a screen it's essentially an extension of your smartphone, a wrist-connected device that lets you check texts, emails, and even social media.
In recent years, however, the two devices have converged. Fitness trackers got more complicated, adopting screens and even the ability to show smartphone notifications, while smartwatches really leaned into the fitness side of things.
Today, older models of fitness trackers, like Jawbone and Pebble, are nearly obsolete. On the other hand, the most popular device for fitness tracking today, the Apple Watch is actually a smartwatch.
But, there are a number of reasons why you should differentiate between basic fitness bands (also called activity bands) like the Xiaomi Mi Smart Band 6 available at Rs 3,499 or the Fitbit Charge 4 available at Rs 9,955 instead of a smartwatch like Apple Watch which will cost you Rs 52,900 or a Fossil Gen 6 Smartwatch for Rs 23,995
Smartwatches have more features
The main difference between a fitness tracker and a smartwatch is the list of features and smart capabilities.
A smartwatch typically has all of the same fitness tracking capabilities as a fitness tracker, such as heart rate sensors and built-in GPS for more accurate health tracking, as well as coaching and activity tracking. specific training, which only the most advanced fitness trackers have.
Smartwatches have more advanced smart features, like music control and built-in Bluetooth (to connect to wireless headphones), built-in mics for calls and voice assistants, and NFC for on-the-go payments.
They are also available in cellular models, which allows them to operate completely independently from a smartphone. Again, some of the more advanced fitness trackers may have some of these smart features and capabilities, but generally most fitness trackers are much less versatile.
One of the main differences between smartwatches and fitness bracelets is connectivity. Although both offer Bluetooth as well as Wi-Fi as connectivity options, the smartwatches also come with cellular connectivity.
Some smartwatches can be connected to the network either by a physical SIM card or by an e-SIM. This means that users can leave their smartphone at home and continue to receive calls, notifications, messages and also stream music through supported streaming apps directly to their watch.
Smartwatches aren't always better
Fitness trackers are significantly smaller than smartwatches and that's arguably the biggest draw to them.
The one feature that most fitness trackers have is battery life. Because smartwatches have large, bright screens and are much more demanding on power, their battery life is usually less.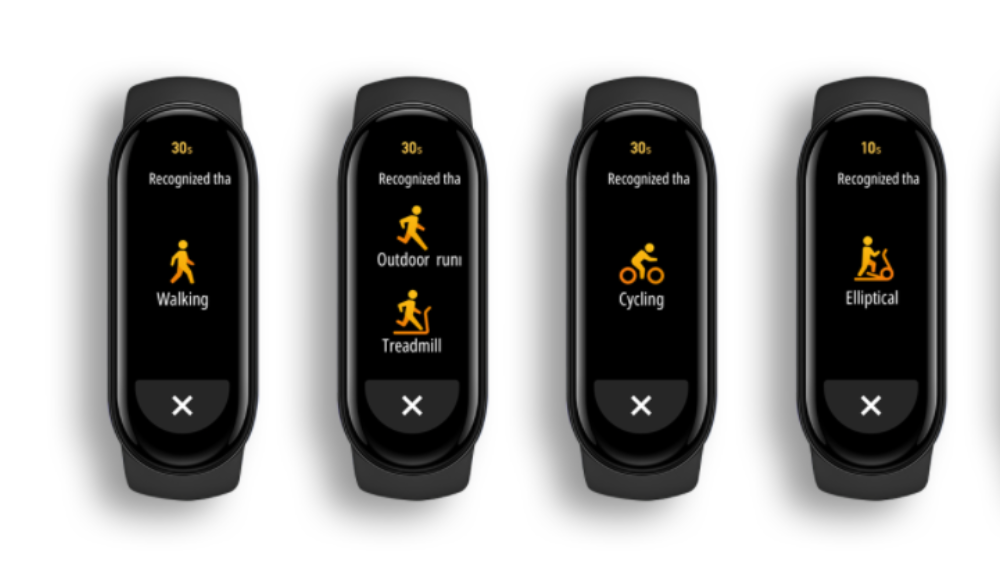 A lot of people don't like wearing watches because they're big and bulky, but they still want something to track their steps and tell them how many calories they've burned – that's exactly what a fitness tracker is for. is good. They don't have large screens and are relatively lightweight, which means they're also more comfortable to wear while you sleep.
Fitness trackers are generally cheaper
The cost of smartwatches can go up depending on their size, the materials they're made of, if they're a cellular model, and what fitness-focused features you want them to have.
Fitness Trackers Under Rs 5,000
GOQii Vital 3.0: 1,999 rupees
It comes with a body temperature tracker, 3 months personal coaching and 7 days battery life.
Xiaomi Mi Smart Band 6:2,974 rupees
This fitness band comes with a 1.56″ AMOLED display and SpO2 tracking. It has 30 sport modes and claims to have a two-week battery life.
Fastrack 3.0 reflex: 2,245 rupees
It comes with a full touch color screen and 20 unique bandfaces. It has over 10 sports modes and claims to have a battery life of up to 10 days.
OPPO Smart Band: 2,799 rupees
It has a 1.1″ AMOLED display and an additional sports band. It claims to support up to 12 days of use and supports Android and iOS.
Realme Smart Fitness Band: 1,499 rupees
It comes with an OLED screen and is compatible with Android and iOS phones.
Smartwatches under Rs 5,000
Gionee STYLFIT GSW7 connected watch: 1,799 rupees
It has a 3.3 cm (1.3″) full touch square screen and a remote camera.
Maxima Max Pro connected watch:2,999 rupees
It comes with a 1.4″ TFT IPS display and runs on the Realtek RTL8762CK chipset. It supports over 10 sports modes and has up to 15 days of battery life.
Zebronics ZEB-FIT7220CH smart fitness watch: 3,499 rupees
It comes with a built-in speaker and mic and a 1.75″ square screen. It has a metal body and 7 days data storage.
boAt Xtend connected watch: 3,499 rupees
It has a 1.69″ HD display with built-in Alexa. It has 14 sports modes and 5 ATM dust, splash, and sweat resistance.
Amazfit Bip U Pro connected watch: 4,999 rupees
It also comes with built-in Alexa and GPS. It has a 1.43″ HD screen, over 60 sport modes and a 9-day battery life.
Noise color adjustment Ultra smart watch: 4,999 rupees
It has a 1.75″ HD TruView display and 60 sport modes.
Fitness trackers above Rs 5,000
Wyze Band Activity Tracker: 5,497 rupees
It integrates Alexa and comes with a fully customizable 0.95″ AMOLED display. Its battery lasts 10-14 days with normal usage.
MorePro ECG PPG Activity Monitor: 7,854 rupees
It comes with a 1.14 inch IPS color screen and can work for up to 5 days when fully charged.
Fitbit Charge 4 Fitness and Activity Tracking: 9,999 rupees
It has built-in GPS and connects to your phone via Bluetooth
Garmin VivoSmart 4: 12,150 rupees
It is made of rubber and some of its features are only supported on Android devices. It can work for 7 days free of charge.
Smart watches above Rs 5,000
Realme S Pro Smartwatch: 9,803 rupees
This smartwatch comes with a 1.39 inch AMOLED touchscreen and can control your music and click pictures on the go when connected to your phone.
HONOR Magic Watch 2: 11,999 rupees
It claims to have a 14-day battery life and an AMOLED touchscreen. It contains 100 Training modes and has 4 GB of built-in memory for music playback.
Fitbit FB507BKBK Versa 2: 13,999 rupees
It comes with built-in Alexa and you can store over 300 songs in this device. It claims to have a battery life of more than 5 days.
OnePlus Watch: 14,999 rupees
It has a 46mm dial and over 110 working modes. With 4GB memory, you can store up to 500 songs and is compatible with One Plus and One Plus TV headphones.
Galaxy Watch4: 34,999 rupees
It is only compatible with Android smartphones and runs on Wear OS Powered by Samsung.