New Delhi: Wearable makers are trying to squeeze as many useful features into fitness bands as possible, as the category isn't limited to just offering heart rate monitoring and step counting these days. The onset of the coronavirus pandemic changed the way we view fitness bands and their health monitoring and also made them very popular and so much so that the Indian smartwatch market accounted for 10% of the global market in 2021, against 3% year-on-year growth in 2020 when the coronavirus pandemic hit.
Fitbit, owned by Google, is a reliable name when it comes to health tracking and the company is known for not flooding the market with a bewildering number of launches while still providing decent and reliable wearables. While we thought the Fitbit Charge 4 was the more accomplished fitness band, the Fitbit Charge 5 comes at a higher price, but also with a host of advantages over the previous-gen Charge 4.
The Fitbit Charge 5 brings a range of upgrades over the Charge 4 and the biggest is the color screen, a magnetic charger and the addition of several features taken from the more expensive Fitbit Sense. The Fitbit Charge 5 is available in three colors in India. I wore the Charge 5 for a few days and here's how it fared in my review.
Fitbit Charge 5 design, display, appearance and build
The Fitbit Charge 5 gets the biggest upgrade in terms of display, which is a 1.04-inch color AMOLED display that's crisp and bright and easy to see in direct sunlight if you adjust the brightness on the fashion. The AMOLED display has an always-on mode which is very useful and the pixel density is 326ppi which ensures you see vivid colors and there is a layer of Corning Gorilla Glass 3 to protect the screen from scratches . Please keep in mind that the always-on display will significantly drain the battery. Fitbit has done away with the physical buttons for good and the screen responds very quickly to touches. However, sweaty workouts will make it difficult to navigate with taps and swipes.
The overall look and finish of the Charge 5 looks premium with a slim profile. The case has a matte and polished aluminum look that doesn't scream for attention. Unlike the previous generation Charge 4, there are no sharp edges in the Charge 5. The edges are curved and softer and there's no Fitbit branding either. The device is available in three color variants: Black Stainless Steel/Graphite, Lunar White Stainless Steel/Soft Gold, and Blue Stainless Steel/Platinum. If you want to sport a chic look, go for the black model, otherwise the lunar white and steel blue are perfect. The slim profile means that the Charge 5 weighs just 29 grams, making it very light and suitable for everyday use. I have sensitive skin, but despite that, I wore it to bed with absolute ease, thanks to its lightweight design. The strap is large and can collect sweat and that's why I recommend investing in a perforated silicone strap or a leather or stretch strap that you can find on Amazon.in or other third-party stores.
Fitbit Charge 5 specs, battery and performance
Those who've used Fitbit smartwatches or trackers are familiar with the sleep analysis tools on offer, and with the Charge 5, Fitbit has taken it a step further. The sleep tracking and analysis is solid and provides comprehensive details such as sleep stages including REM sleep, deep sleep, light sleep and time awake. These details are accompanied by the estimated low and high oxygen variations. However, features like sleep heart rate and restlessness are locked behind the Fitbit Premium service. The sleep tracking feature and stats available on the Fitbit Charge 5 are excellent and are generally available on devices twice as expensive. By using its sleep tracker, you can significantly improve their sleep pattern and sleep quality.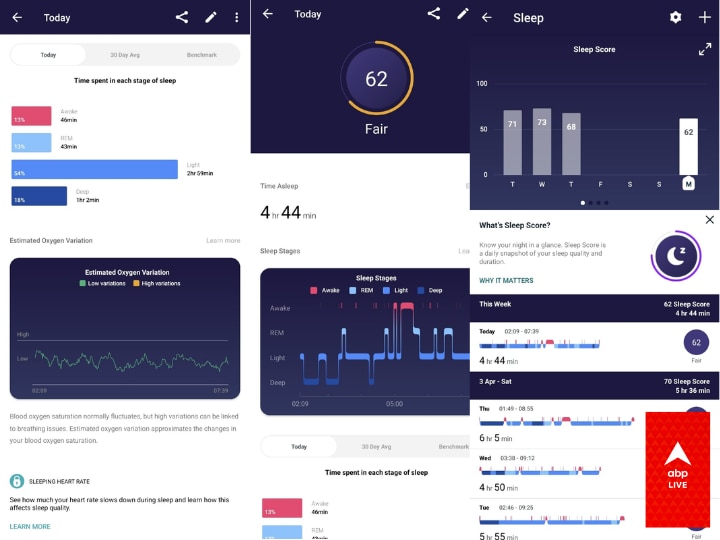 The addition of EDA or Electrodermal Activity Analysis is useful for better monitoring your stress and uses two sensor strips on either side of the tracker – to use it you need to gently hold both sides with the forefinger and thumb and follow the breathing prompts that appear on the screen. Despite how fancy it seems, the EDA function is redundant in the tracker. Also, properly holding the sides with thumb and forefinger for scanning is a hassle and the Charge 5 kept pausing and asking me to "hold the sides to resume" which was infuriating. I could only get the reading after repeated attempts.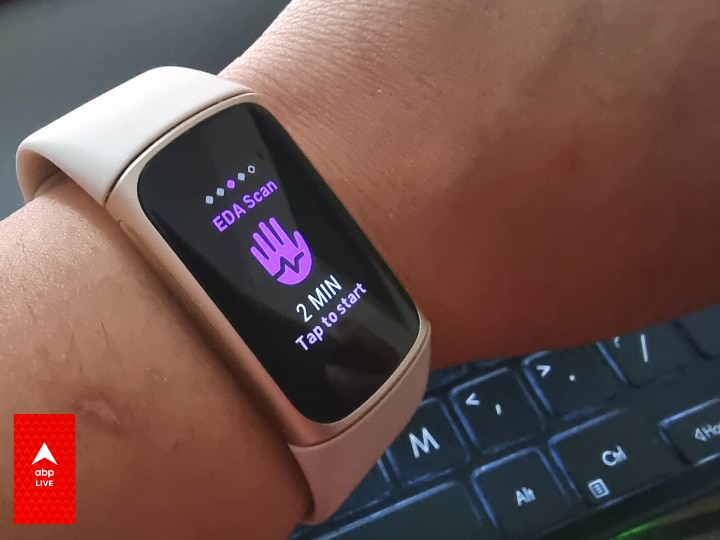 Other than that, the Fitbit Charge 5 comes with several default workout tracking options which include running, treadmill, swimming, cycling, and weights. Workout modes can be easily changed through the Fitbit app and you can select the exercise that suits you best. However, you can only have six workout tracking shortcuts on the Charge 5 at a time, which is a shame. The Redmi Smart Band Pro (read review here), for example, is much cheaper and provides 15 default workout tracking shortcuts with an option to add more.
Other than that, the Fitbit Charge 5 can track 20 different types of workouts, which is pretty good. The Charge 5 also has a menstrual health tracking feature which, if used regularly, can provide insight into recurring irregularities. It can also help you identify menstrual patterns related to daily activities like sleep and exercise. The tracker also has the ability to automatically identify workouts. Fitbit's step tracking is superior to other available options because it doesn't count missteps when I'm in a car or scooter or just sitting and typing on my keyboard.
The Fitbit Charge 5 has a promised 7-day battery life on a single charge, but I found it lasted just over 6 days in my use. Heavy use of GPS and constantly adjusting the display will drain the battery much faster. A huge upgrade over the previous generation Charge 4 is the addition of the new charging dongle – it has a magnet, ensuring the Fitbit Charge 5 latches onto it firmly and is easy to engage and charge . The Fitbit app works on both Android and iOS and is easy to use.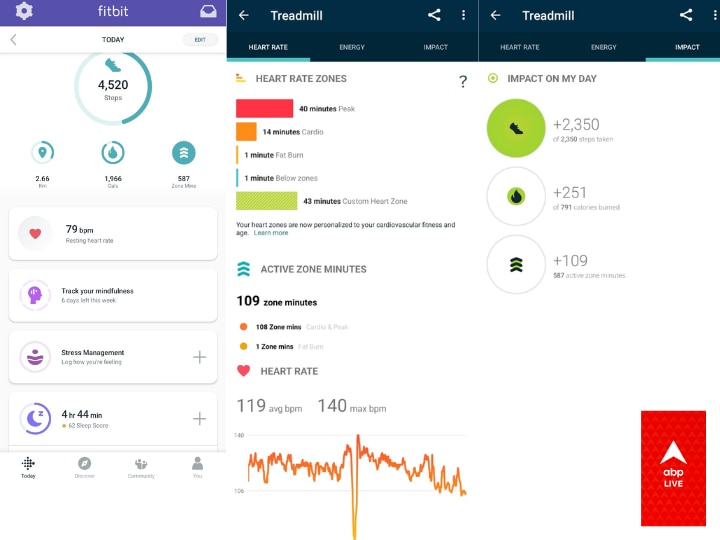 The data it provides is comprehensive and presented in an easy to read and understand way which makes it even better. One thing that feels like a downgrade from the Charge 4 is the absence of Spotify. I was hoping to use it to control music playback on my smartphone during walks and workouts.
Fitbit Charge 5 final verdict
The Fitbit Charge 5 is a great fitness tracker, but of course it doesn't come cheap. Priced at Rs 14,999, it's an expensive proposition, but offers a host of health and sleep monitoring features as well as menstrual health tracking and built-in GPS. Without a doubt, the Charge 5 is the best fitness tracker Fibit has ever made with many significant improvements over the Charge 4. However, it's worth bearing in mind that many fitness bands such as Honor, OnePlus , Redmi and Xiaomi also offer useful features without burning a hole in your pocket.