The Apple Watch can be the perfect tool for reaching your fitness goals and tracking your daily activities. However, finding a comfortable and reliable band to pair with your workouts can be more difficult than attending that yoga class, going for a run, crushing those weights, or pedaling through a spin class. And while you might think of a wristband as a simple-to-use container for your watch, there's also a plethora of armbands out there that will still fully record your exercise details.
Although Apple offers its own fitness bands, there are literally hundreds of them to choose from, with goodies like water resistance and breathable fabric. Here are our favorite bands for working out with Apple Watch.
The Apple Sport Loop is designed for tough workouts. The nylon fabric is lightweight and breathable for ultimate comfort while you sweat. The skin side of the band is a soft material with built-in padding that helps wick away sweat, and it's easy to put on or take off with the included Velcro strap.
Although not specifically related to fitness, Apple's Solo Loop is comfortable and easy to put on and take off. The silicone material is waterproof and fits perfectly while you run, lift or swim. We also love that it comes in 13 different colors.
This classic sport band is made from fluoroelastomer with compression molded holes that allow your skin to breathe throughout your workout. It's also available in bright, colorful hues, like a teal and green or peach and orange combo, as well as neutral options like white and black, or a softer gray and black.
Noma's Sport Band is 100 per cent waterproof and offers interior ventilation channels, and it's available in five colours: black, moon grey, dune, ash green or navy. We've been testing this band for about a month now and have been impressed with the comfort and durability throughout high-intensity training classes and at-home Pilates. In addition, it reduces the accumulation of sweat on our wrist.
Perfect for all kinds of adventures, the sturdy strap attaches like a traditional watch strap, has a breathable ribbed design, and is fully waterproof. It's a great choice if you enjoy exercising outdoors, while the secure clasp means your watch stays put and looks as good as it feels.
The rugged TPU construction of this watch bumper from Pelican means it will protect your watch from any accidents or damage, whether you're concerned about dust and dirt when out on the trails or worried about bumps caused by equipment in a weight room. It is available in three colors: light purple, army green and classic black.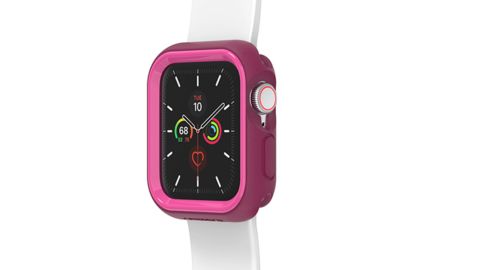 Your Apple Watch does so much to help you during workouts, protecting it with a bumper is the least you can do. You won't have to worry about dents and scratches on your device, and it's available in 10 different colors to match your style.
Twelve South ActionBand ($29.99; amazon.com)

Twelve South's ActionBand ditch traditional watch bands for the comfort and functionality of a sweatband. Made from stretchy and comfortable terry lycra fabric, the ActionBand comes as a set for both wrists, with one sweatband that holds your watch securely, while the other looks cool . Bonus: It's machine washable for easy cleaning between workouts. Remember to remove the watch.
Tefeca Breathable Sport Loop Armband for Apple Watch ($17.99; amazon.com)

Don't want to wear your Apple Watch on your wrist? This affordable armband fits your arm with a hook-and-loop closure for an easy fit. It's made of a soft, breathable material, and you can even choose to strap your watch around your ankle. It works with all Apple Watch models and will fit a circumference of up to 15 inches.
An armband takes your wearability to a new level, and if you find it more comfortable to keep your Apple Watch on your arm rather than your wrist while you sweat, this pick from Twelve South fits the bill. Simply remove your current watch straps from your wearable and slip the watch onto the back of the ActionSleeve. Your screen, crown and button are still fully accessible, and the skin sensors will still be able to accurately track your activity.